Sea Eagle Rescue Board
Order in the next
to get it by
5 Great Reasons to Buy From Us:
Sea Eagle Inflatable Rescue Board
The Sea Eagle IRB - Inflatable Rescue Board is a 5-foot inflatable rescue board that packs down to a mere 1/6th of its fully inflated size - making it easy to store, transport, and quickly deploy for use!
The inflatable Drop Stitch construction allows this board to be inflated up to 10 psi which makes for an incredibly rigid board while providing just enough flexibility to prevent the injuries caused by traditional rigid/hard shell boards. Great for emergency water and ice rescues!
About the Wave Slider™ Series
The Sea Eagle Wave Slider™ takes fun to a whole new level! This wave sliding, joy riding, the inflatable is great for adults and children alike!
Whether choosing the thrills of wave riding or leisurely floating about, this little 4 foot board is something you just can't leave home without!
Say goodbye to packing nightmares, no need to stress about storage space anymore! These boards pack down to just 1/6th of their inflated size which means you can pack 6 deflated boards in the same space it would take to pack two comparable rigid boards of a similar style.
| | |
| --- | --- |
| Person Capacity | 1 |
| Hull Weight | 7 kg. |
| Length | 152 cm |
| Width | 74 cm |
| Load Capacity | 1 person, 109 kg |
| Deflated | Approx. 81 cm x 36 cm x 15 cm |
| Air Valves | One Way |
| Inflation time | Less than 30 seconds |
| Seam | Quadruple Overlap |
| Material | 1100 Decitex Reinforced Drop Stitch |
| Board Thickness | 13cm |
| Inflation Pressure | Up to 10 psi |
High-visibility orange color
Dual bow high-visibility reflective strips
Durable, portable, packable, storable, and easily transportable
Fits into just about any compartment
Deflates and stores at 1/6th the size of similar rigid boards
Twelve large heavy-duty D-ring attachment points
Four high-strength grab/carry handles
Dual sides high-strength 1/2" grab lines
Deluxe recessed Halkey Roberts style air valve
Skid-resistant, soft, EVA foam traction pad
Drop Stitch inflatable construction provides tremendous rigidity
Up to 10 PSI max air pressure capacity
Grab Handles & Non-slip EVA Padding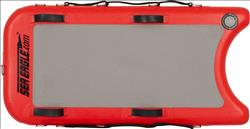 Four robust big loop reinforced grab handles for easy access and firm holds. Even the biggest hands and rescue gloves won't be hindered nor become entrapped.
Rugged and durable non-slip EVA padding prevents slide-offs and slipping, provides cushion protection for victims, and the security of maximum gripping power when it's needed most.
Heavy Duty D-ring Attachment Points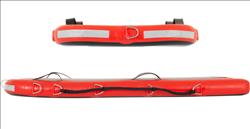 Eleven extra heavy-duty D-ring attachment points for attaching bridles, ropes, mechanical advantages, and gear.
Reflective Strips
High-visibility reflective strips for enhanced visual location identification during emergency night operations.
Side Grab Lines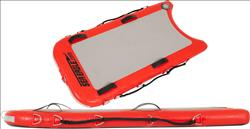 Dual sides high-strength 1/2" grab lines to facilitate emergency rescues and rapid securement of multiple victims.
Rescue Stencil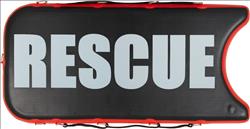 High-visibility "RESCUE" stencil so there's no confusion about who the rescuers are and which board is yours.
Efficient Stow-ability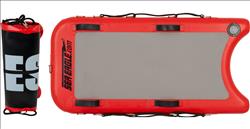 A small storage footprint with quick immediate accessibility means one or more can be placed on every unit in the fleet. When life-saving seconds count there's nothing better than having a Rescue Board ready to deploy at the blink of an eye.
IRB - Inflatable Rescue Board Discount Package
The Sea Eagle IRB - Inflatable Rescue Board is a new kind of rescue board! Great for emergency water and ice rescue. Packs like a yoga mat and inflates in seconds so you are ready to go at a moment's notice!
Shipping
Enjoy FREE Shipping across the continental USA on this item!
Delivery
Estimated between and
We will usually ship within 1 business day.
    
 

Free Shipping and Rapid Delivery: Products are normally shipped within 1 business day! Please allow 3-7 business days for your order to arrive, although some items will arrive within 48 hours.   We source products from all over the United States to bring you epic offers, the lowest prices, and rapid delivery.

30 Day Money Back Guarantee makes Returns easy. If you need to return your purchase, you can return it in the original, new, unused condition within 30 days of receiving your purchase. Simply contact us for a return number (RMA) and warehouse address to send your item. We will get your return processed asap. Items not in original packaging may not be eligible for return or may be subject to a restocking fee. *Please Click Here for Full Return Policy by brand and exceptions to the 30-Day Guarantee.
Here Are 5 Great Reasons To Buy From Us:
    
 

100% Free Shipping and Rapid Delivery: We provide Free Shipping to get your order to you at no extra cost! No hidden costs, no added fees, and no sales tax in almost every state. The price you see is your final price. Once your order is placed, it is quickly processed so that it can ship as soon as possible. Our goal is to ship every order within 1 business day and while that is not always possible, 95% of our orders ship within 2 business days.

30-Day Money Back Guarantee: If for some reason you don't find yourself satisfied with your order you can return it in the original, new, unused condition within 30 days of receiving your purchase. Simply send it back to us and we'll refund you every cent. *Sea Eagle products have a 3-year manufacturers warranty against defects, but they do not offer credit for returns. Under the unlikely event that there is a defect, they will gladly replace or repair your item. *Please Click Here for Full Return Policy by brand and exceptions to the 30-Day Money Back Guarantee.

Price Match Guarantee: In the unlikely event that you find your item at a lower price on another online store, just let us know and we'll beat the competitor's pricing hands-down. Also, with our Norton Shopping Lowest Price Guarantee if you find the exact same product on our site for a lower price within 30 days of your purchase, you will be refunded the difference up to $100. Please Click Here for our full Price Match Guarantee Policy

Bank Level Security: Ordering from SplashyMcFun.com is 100% safe and secure so you can rest easy. We use encrypted SSL security to ensure that your credit card and personal information is 100% protected. We provide the same type of security that you will find at a bank! Through our Norton Shopping Guarantee we offer $10,000 ID Theft Protection and $1,000 Purchase Guarantee. Your personal details are NEVER shared, sold or rented to anyone either.

1st Class Customer Service: We take pride in our customer service and we want our Midwestern hospitality to be offered to everybody. If you have any questions for us just reach out and we will get you taken care of. We can be reached via Email, Live Chat, or Telephone. Email is the most effective way to communicate with us, but you can contact by all 3 means. Click to view our Contact Us page with all of our contact info.
---
---
We ❤️ Hearing From Our Happy Customers...
"Great service and fast shipping! Everything arrived as described and a day early. Thanks for the help with picking out the right inflatable kayak package! " - Kim Y ⭐️⭐️⭐️⭐️⭐️

"Great customer service. I was buying for my husband and wasn't sure of some of the specifics. The Sales Rep (Nate) promptly returned my emails and made sure I got what I was looking for. The Lillipad Boat Diving Board rocks, Thanks! " - Angie C ⭐️⭐️⭐️⭐️⭐️

"I've now made 3 purchases from Splashy McFun and everything has been easy and arrived on time. The new water trampoline has been a big hit, many thanks guys! " - Wally R ⭐️⭐️⭐️⭐️⭐️